Using any kind of data requires taking on an important responsibility. When you use data that contains personal information, you must be sure that you are handling it correctly. There are very strict rules for data protection, to ensure personal privacy is protected. This is not something you should consider lightly when deciding to invest in datasets. Opting for a cheap contact data supplier should never be a serious consideration. For clarity, we're talking complete bottom dollar prices that seem too good to be true.
There are huge risks in seeking a cheap contact data supplier, which are never worth a lower price point. Good suppliers may have slightly higher prices, but are much less likely to falter on quality and results. Just as it is with any business move, buying contact data should be a financial consideration, not a legal one. In this article, we will look at exactly what risks you could face when using a cheap contact data supplier. We will also look at how to spot and therefore avoid poor data providers, so you never get caught out.
Failure to TPS/CTPS Screen
There are many signs that can suggest a supplier is not compliant and therefore handling data illegally. Being compliant means abiding by the data protection regulations set out in the country or region in which you and the supplier operate. In the UK, we follow GDPR. This stands for General Data Protection Regulation. GDPR was put in place as part of the Data Protection Act of 2018.
All contact data suppliers should only be supplying data that is GDPR compliant. All data must be handled in accordance with the Data Protection Act, in order to be lawful. This means the way in which the data was sourced must be compliant. It also means that every stage of contact must be compliant. This means how the data is stored, how it is bought and sold, and how it is transferred. It also involves how the data is maintained.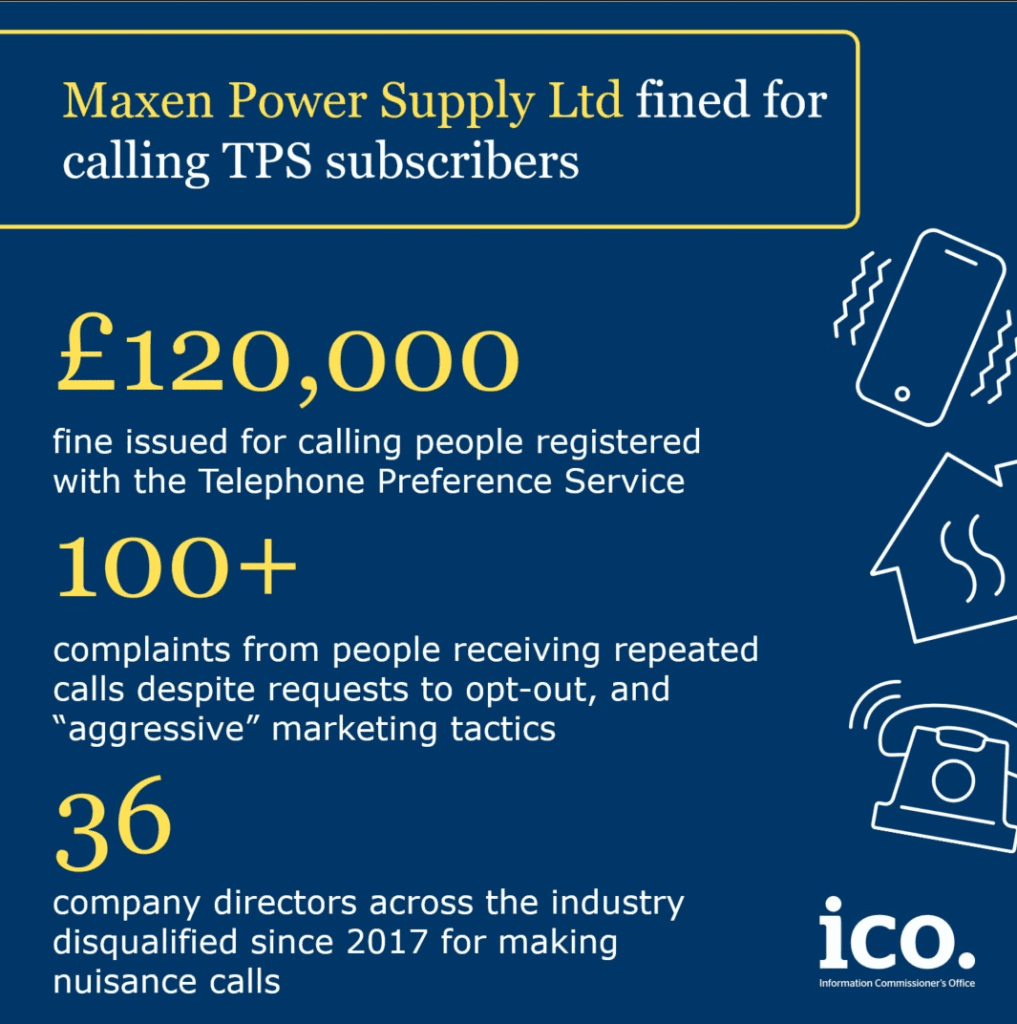 (Source)
Even if a contact data supplier has acquired data legally, they may not be storing and maintaining it legally. Data must be maintained in order to stay compliant. Having compliance documentation to prove initially compliant data is not enough. You need to know that the data you are buying is still compliant. Further to this, when you buy your dataset, you must maintain its compliance. This is where the TPS and the CTPS come in and screening data.
What is the TPS/CTPS?
The TPS is the Telephone Preference Service. Whereas, the CTPS is the Corporate Telephone Preference Service. Both the TPS and CTPS are services that phone numbers can be registered with, to avoid receiving unsolicited marketing calls. They are the UK's official 'do not call' lists. So, any business or organisation that rings these numbers without consent is at risk of a fine.
It is the ICO that enforces action against those making unsolicited marketing calls. The ICO is the Information Commissioner's Office. Fines can reach 10 million euros, or 2% of the business' entire global turnover, from the preceding fiscal year. Whichever fine is larger, will be enforced. However, fines can even reach 20 million euros or 4% of global turnover for severe violations.
Cheap Contact Data Providers May Not Screen Their Data
Data must be regularly screened against the TPS and the CTPS every 28-days, to ensure that it is still compliant. This is because the compliance of just one piece of data can change. Just because your data is compliant when you bought it, it does not mean it will always remain compliant. This is because individuals and organisations can decide to register a number with the TPS or the CTPS. Therefore, newly registered numbers then become 'do not call numbers'. If contact data on your list becomes registered with either the TPS or the CTPS, it becomes non-compliant.
If you happen to call a number registered on either of the 'do not call' lists, you are at risk. A complaint can be made against you and the ICO could carry out an investigation into your business.
As data can change, you must ensure that any data you buy has been screened. You must also continue to screen it.
A good contact data supplier will screen its data against the TPS and the CTPS, so what they supply is lawful. However, there are suppliers out there that do not.
The process of screening your data will check if any of the contacts on the list have since become registered on the TPS or CTPS. Once any non-compliant data has been identified, it will be removed. Therefore, this makes sure it is not on the list you use for marketing purposes.
Your data needs to be screened every 28 days. This is the length of time that a new number can take to be listed once registered. So, data that was checked and came up compliant can still become non-compliant in a very short span of time. Making sure you have regular screening checks ensures that your data is legal and reliable.
Data Screening at AccuraData
At AccuraData, we ensure that our datasets are compliant before we sell them, and we work with reputable suppliers. We also screen and cleanse datasets you bring to us. If you need your data checked, we can complete the job quickly and efficiently. We aren't a cheap contact data supplier, but we're competitive and we do things the right way.
Our data cleansing and TPS checking process is simple. First, you get in touch to inform us of what you need, then we send you an invoice. We will get started on the work once paid, and run your data through our system. To finish the process, we return your data through a compliant portal, with a report. If you would like to learn more about screening at AccuraData, click here.
Cheap Data Suppliers Carry Compliance Risks
There are so many reasons why using non-compliant data is bad for business beyond legal reasons. Contacts registered on a 'do not call' list will be frustrated to receive unsolicited marketing calls. This leads to poor communication, bad contact and staff experiences, and bad brand reputation. Overall, it is a waste of time and is unlikely to achieve many sales. It is a poor, inefficient marketing option, beyond the fact that it is illegal. Using a cheap contact data supplier will make it more likely for you to face these issues.
So, how do you know if a provider is compliant and the data you receive will not land you in trouble? Ask for the compliance documentation. One clear sign that a cheap contact data supplier is untrustworthy and non-compliant is if they fail to provide compliance documentation. If you ever want to buy any kind of contact data, it is vital that you ask to see compliance documentation. This allows you to see the evidence that a supplier is working legally and can provide compliant, reliable data.
If a supplier is unable to or refuses to supply compliance documentation, this is a big warning sign. Do not go further in any business deal with a company like this. It is never worth the risk to do business with a provider that has failed to provide the correct evidence.
Use the ICO
You can also further check a company's compliance by running a check yourself. There is a tool provided by the ICO, that you can use to find out if a supplier is registered with the ICO. Compliant contact data providers have to be registered with the ICO. Therefore, they should appear when you search for them on the register.
The register of data protection fee payers only requires four things. You need to know the supplier's registration reference, the name, address, and postcode. Once you have this information, you can search on the register and check a supplier's compliance. This can help match up with a supplier's compliance evidence if you are still unsure.
A cheap data company will be unable to prove where their data has come from. These kinds of suppliers will also struggle to prove how they are compliant with the law
We have also shared a full blog post about how to spot bad telemarketing list providers. So, if you want to learn more about what to look out for and the reasons, read here.
Inaccurate Data
Another risk that comes with using a cheap contact data supplier is that the data is likely to be inaccurate. What you pay for is what you receive. If you fail to invest sufficiently in a dataset, typically, you will see a lack of care from your provider.
Poor-quality suppliers do not have their data refreshed regularly. This leads to poor information quality and inaccuracies. Often these datasets will include wrong numbers, wrong email addresses, incorrect contact names, and other inaccuracies.
There is a huge importance of accuracy when it comes to data. Any false information could cause an issue in your marketing campaign. Contacting an individual on your list who has been documented wrong is not a good business look.
No potential customer will be pleased if they pick up a marketing call if you address them by the wrong name. Or, if you supply products or services for a specific geographic area, it is important you have the right details. If you supply window cleaning services in Newcastle, a contact in London might not appreciate your sales pitch and you won't be able to sell to them anyway. These are things to consider. You need to know that the data on your list is accurate, up-to-date, and compliant.
Examples of Non-Compliance
You will always be able to find a cheap contact data supplier who is willing to provide non-compliant data at lower rates, and this lands businesses in trouble. It is important for any business investing in data to be aware of who they are buying from. If you are in the business of buying data, do some of your own research. Finding a reputable, compliant supplier suited to your business will always be worth a higher price point.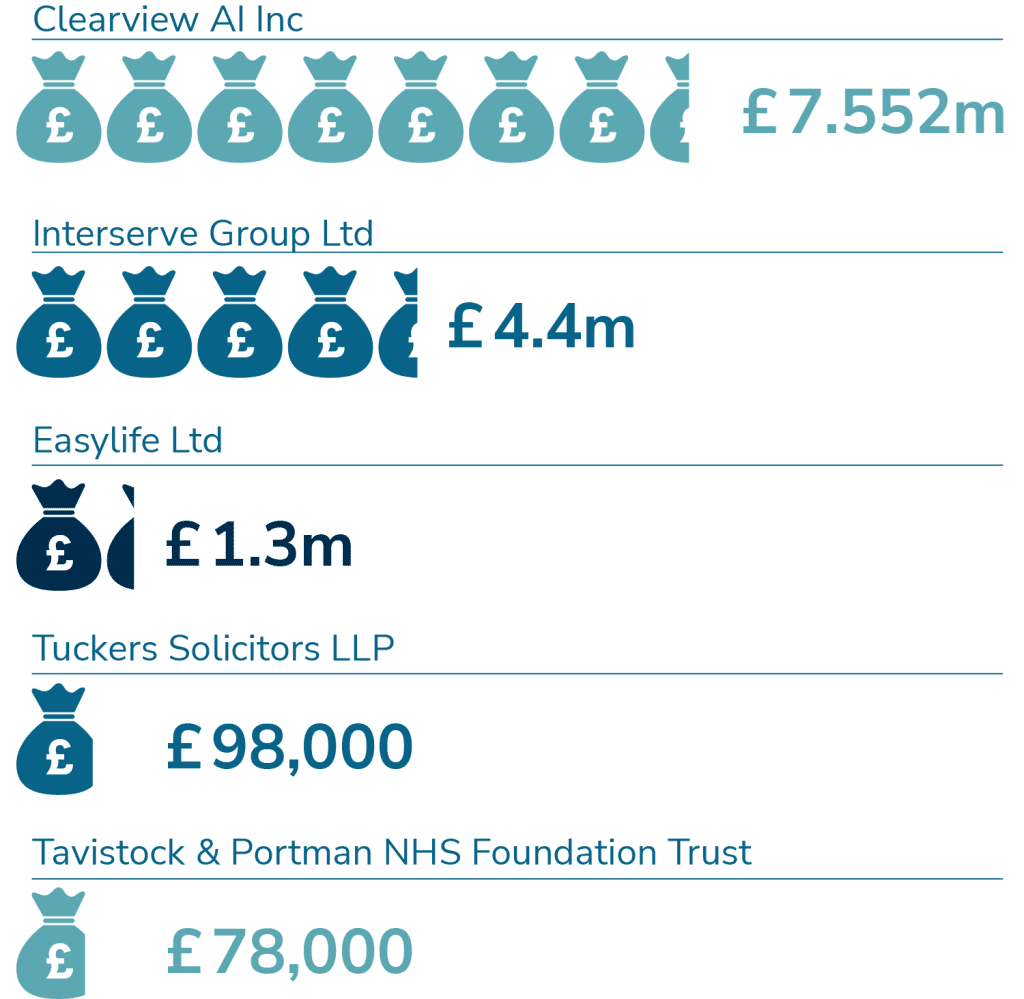 ICO Fines in 2022: (Source)
Below we will look at some cases where businesses have failed to comply with data protection regulations. This is either through failing to carry out proper checks on suppliers or making the choice to risk the penalties. These businesses get exposed by the ICO and often face huge financial penalties.
Simply Connecting Ltd
The first on the list of companies that have been exposed by the ICO is Simply Connecting Ltd. This is a recent case, dated on the 6th of September 2023. The company is being prosecuted for breaching regulation 22 of PECR. PECR stands for the Privacy and Electronic Communications Regulations.
The ICO is issuing Simply Connecting Ltd with an enforcement notice under the Data Protection Act. Simply Connecting Ltd was found to have sent 441,830 unsolicited direct marketing text messages. These SMS messages were received by individual subscribers between the 9th of December 2020, and the 9th of March 2022. This has resulted in them facing a £40,000 fine with the enforcement notice.
As the ICO published, it is the responsibility of Simply Connecting Ltd to make sure that any data used had expressed valid consent. To share marketing content with these contacts, the company needed to have acquired valid consent in order to be compliant. This is relevant for texts, automated calls, or emails.
The ICO has shared an overview of the breach here. To read more about the whole case, find it here.
Monetise Media Limited
Monetise Media Limited is another company that has come under fire from the ICO for breaking data protection regulations. This company was found to have shared both email and text marketing messages, breaking regulation 22 of PECR. Dated on the 14th of December 2022, details of the case were published. The company was exposed by the Information Commissioner's Office for sending marketing content without valid consent.
This monetary penalty was set at £125,000, with a reduction to £100,000 if paid early. The penalty was due to be paid on the 13th of January 2023. This was agreed to be lowered if paid in full by the 12th of January 2023. Again, the company did not take the proper actions to protect those whose data they were using. This resulted in public exposure, as well as the monetary penalty.
For the published page, where the ICO exposed the company for breaking the law, read here. The case can be found with further details here.
Allapplianceservices UK Ltd
Allapplianceservices UK Ltd is another company that has been fined by the ICO, for breaking data protection laws. The Brighton-based company was found to have made 99,313 unsolicited direct marketing calls. These calls were made to numbers registered with the TPS. The TPS is the Telephone Preference Service. This took place between the 1st of January 2021 and the 28th of June 2021.
Companies that fail to check a supplier's compliance put themselves at risk of poor-quality data. Cheap providers often do not check their data or screen against the TPS. This results in data being included on these lists, which is illegal to call. Companies end up receiving this non-compliant data and make marketing calls that end them up in legal trouble. This can all come through just opting for a cheaper contact data supplier.
When investigated, Allapplianceservices UK Ltd was found to have used pressurising tactics on the calls. The company used pressure tactics to insist that card details were given. Some of the individuals who had been called were vulnerable and felt pressured to provide payment details.
The ICO decided that it was fit to fine the business £85,000. This was set to be paid by the 5th of January 2023 at the latest. The publication of the case can be found here. Full details of the case and details of payment conclusions can be found here.
Boiler Breakdown Limited
Further action that the Information Commissioner's Office has taken recently was against a company called Boiler Breakdown Limited. This is another case of a business breaching data protection, by calling numbers registered on the TPS. The Surrey-based company made 348,724 unsolicited direct marketing calls. These calls were made to numbers that were registered with the TPS between 1 January 2020 and 31 August 2020. A company with the same director also made unsolicited marketing calls to TPS registered numbers during this time. This company goes by the name of Boiler Cover Breakdown Limited.
After investigation, the ICO found that the companies were directly targeting vulnerable people for the marketing calls. The ICO has fined Boiler Breakdown Limited £140,000, and the other company Boiler Cover Breakdown Limited, £120,000. The ICO shared this on the 7th of December 2022 and can be found here. For further information on the breach, read here.
To read about other recent examples and older cases read here. This details where companies have been found out and punished for breaking data protection regulations. The ICO regularly shares its most recent cases and explains what action has been taken.
Customer Due Diligence
As explained above, it is always your responsibility to check and make sure that the data you are using is compliant. Clearly, good contact data suppliers will provide quality, legal data, however, it is still your responsibility to make the checks.
We have already looked at what you can do to check your supplier. You can ask for compliance documentation and review the evidence. We also know that you can run your own checks on the supplier, by using the ICO's register.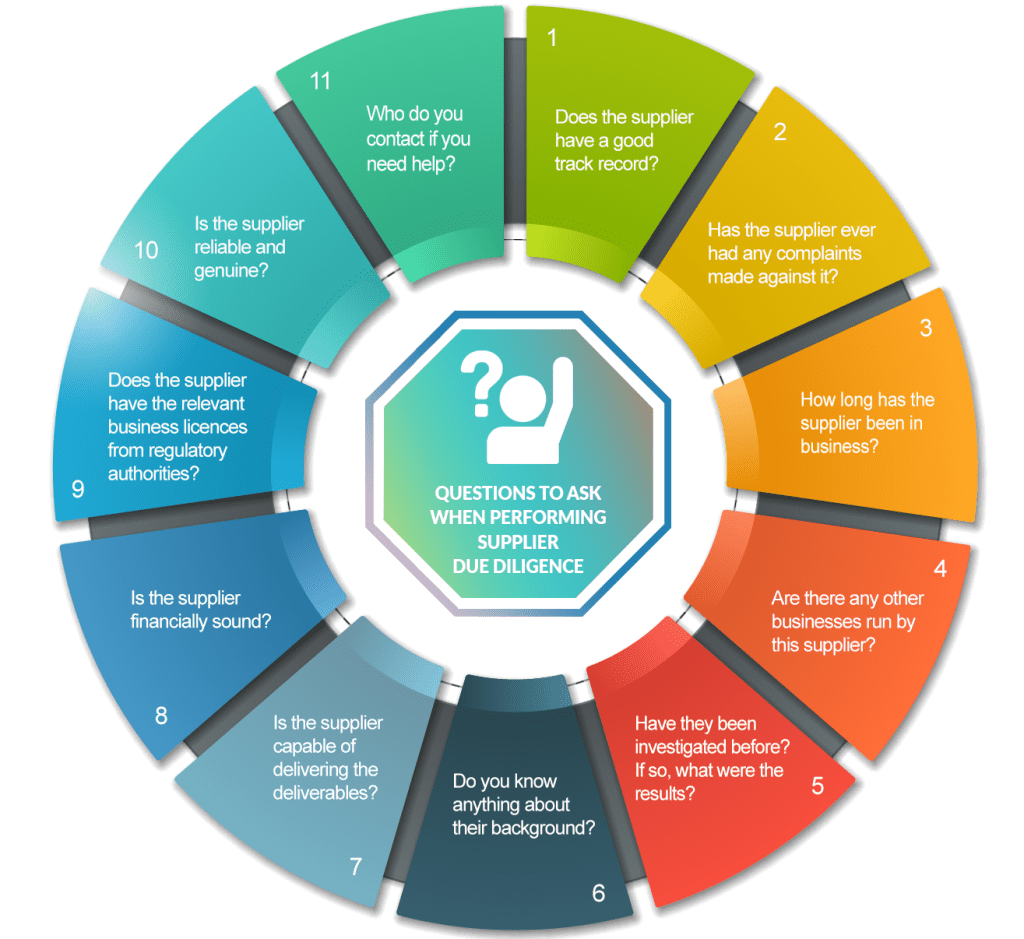 (Source)
There are a few things you can do beyond the actual checks to make sure a company is reputable. Below we will look at a few stand-out ways to find a good contact data supplier.
Spelling and Accuracy
One of the first things to look out for in a cheap contact data supplier is the spelling and accuracy of their work. If you can quickly spot lots of mistakes in whatever they are sharing, this might be a bad sign. It could suggest that the dataset you receive will also be filled with mistakes, and inaccuracies.
Data must be precise. There is no room for error when it comes to a dataset. This is because the data must be accurate to keep compliant. For example, just typing one number wrong could result in a non-compliant number, which could be registered with the TPS.
Customer Service
Another way to distinguish a good provider from a bad one is the kind of customer service you get. A good provider will answer any of your questions in depth, and put in the work to make sure you understand everything. A poor quality or cheap provider might be dismissive. They might not take the time to read your emails, or not fully understand your questions.
Another customer service point to watch out for is timely responses. How quickly does a provider respond when you first make contact? Does it take weeks or months for a response about a quote? Good contact data suppliers should respond promptly, as they understand the value of your custom.
Portfolio and Reviews
The next thing you can look out for when searching for a good contact data supplier is to look at portfolios. When it comes to contact data, it is not as clear to show portfolios as a website design portfolio is. However, good suppliers will advertise what kind of data they work with and which industries they supply to. That can help give you an idea of whether a supplier is suited to your business.
You can also look for reviews to find out more about a supplier. Do they have good Google ratings? Do they share any customer testimonials on their website? Doing some of your own research and reading what previous customers have to say about their experience helps. You can form a picture of what a supplier is like, and is part of your due diligence as a customer.
Contact Data at AccuraData
We have talked through all of the reasons why we would never advise opting for a cheap supplier. In this article, we have also looked at what to look for in a good supplier vs. a cheap one.
Hopefully, you now feel more equipped to find your own supplier. At AccuraData, we hope we might be able to help you. We are a contact data supplier and you can be sure that our data is compliant, and of high quality.
We offer both B2B data and B2C data. This is business-to-business and business-to-consumer. We can supply data for email marketing, and telemarketing, and we also offer energy renewal data.
Our data is regularly checked and screened against the TPS and CTPS. We can also cleanse data for you. If you buy one of our datasets, we will be happy to cleanse your data for you. This makes the whole process easier for you. You can read more about our data cleansing and TPS checking process on our website here.
We also write about all things data, marketing, compliance, and more industry knowledge. So, if you want to read up on any of the topics we work within, head to our blog. We have a complete guide to B2B marketing data for 2023 here. On our blog, we have also shared complete guides for B2B leads, B2B energy renewal data, and B2C data. There are also up-to-date complete guides to B2B email lists and B2C email lists.
Conclusion
Hopefully you now know how to avoid cheap contact data suppliers, and that you understand the risks of using one. Do not be attracted to just low prices. Do your research and due diligence before deciding which supplier to invest with for your contact data. We know what happens to companies that do not complete due diligence and fail to comply with data protection laws.
You also now know what qualities a good supplier should have. There are plenty of good contact data suppliers available, it just takes some research to find the right one for your business. If your budget does not yet stretch to pay for a quality data supplier, then you might not be in the possession to invest in data. You should never compromise on quality and compliance. Stay safe from the non-compliant cheap contact data suppliers.
Good luck with your search for a supplier, we hope to hear from you soon. If you would like to get in contact with us about our data, please do so here.